The new ISC Paris campus in Orléans will welcome its first Grande École program class at the start of the 2020 academic year. The Orléans campus opened on November 20, 2019, and currently offers the ISC Paris Bachelor program.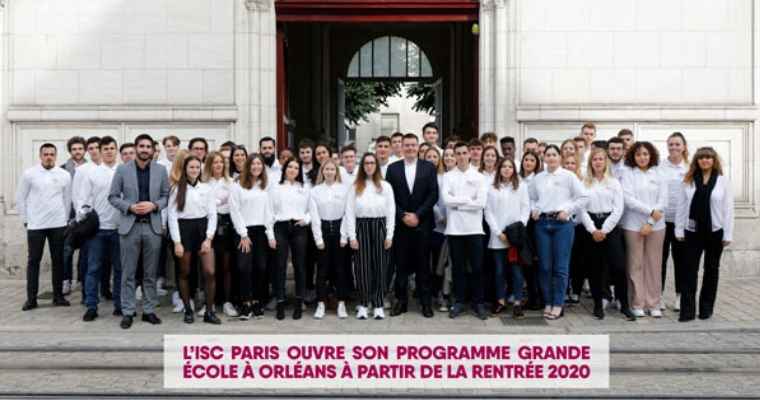 On November 20, 2019, ISC Paris officially opened a new campus in Orléans. As ISC Paris' first satellite campus in the Paris metro area, Orléans welcomed 58 first and third-year Bachelor students at the start of the 2019 academic year.
At the start of the 2020 academic year, the Orléans campus will open its doors to its first class of first-year Grande Ecole program students, who will follow the same curriculum as on the Paris campus.
"By opening a Grande École program on the Orléans campus, ISC Paris will give "classes préparatoires" students from central France the opportunity to attend a high-level, internationally-recognized program, backed by our AACSB and AMBA accreditations, and our ranking on the Financial Times list of the world's best Masters in Management programs. In addition, undergraduate students will be selected to join us through the AST competitive examination process." -Jean-Christophe Hauguel, Dean of ISC Paris "Higher education and research in Orléans already includes 20,000 students, and major players such as the CNRS. We're thrilled to be the first French management school to offer the Master degree locally, on a completely internet-enabled campus in the city center; it's the perfect environment for innovative teaching."
ISC Paris also plans to enhance student association offerings on the Orléans campus, through new Student Enterprises–the heart of ISC Paris' identity.
The second year of the Grande École program will open at the start of the 2021 school year. When ISC Paris renews the accreditation for its Master degree programs in 2022, it will also request that this be expanded to all of the Orléans campus programs.